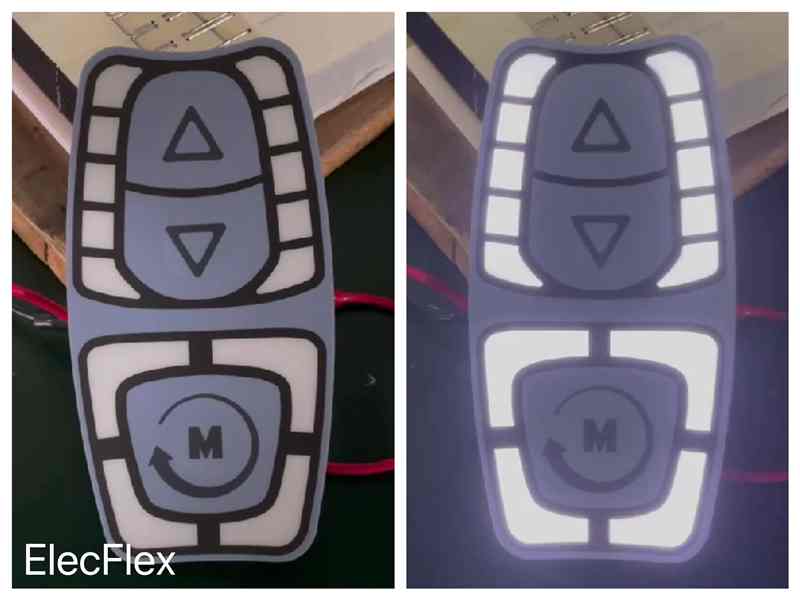 LED Backlight Keypad
Side-firing LED with LGF(light guide film) is the mainstream backlight solution in membrane switch industry. ElecFlex provides a complete integration backlight solution for you! Below are our features. -Anywhere. By embedding discrete side-firing LEDs and placing proper light guide dots, we can light any place you want on your membrane switch -Any color. By printing semi-transparent ink with specific colors on the graphic overlay plus white side-firing LEDs underneath, the users will get any backlight color they want. -Any shape. ElecFlex uses a professional light guide design system to generate a specific light guide film, which will guide the light to the place needed and block the light where unneeded. What's more, thanks to our up-to-date facilities, ElecFlex is able to fulfil the backlight order at any small quantity, like dozens. NO MOQ AT ALL!
Elecflex supplies a LGF(light guide film) technology to realize the backlight. It uses side-firing LEDs as light resource, so it is energy saving and long-life cycle. The MOQ could be small.
Overlay material: polyester(recommend) or polycarbonate
Oversize: <800x400mm
Colors: <13
Embossing: pillow emboss, rim emboss or without emboss
Dome: metal dome or polydome
Embedded LEDs: side-firing single color, bi-color or tri-color
Embedded resistor: optional
Shieding layer: optional
Waterproof design: optional
Backlight design: LGF backlight
Connector: 2.54mm pitch female housing or 1mm pitch ZIF connector
Thickness: >= 1mm